Welcome to my new series Weekly New Free Knitting Patterns! Starting this week, Julia Riede digs out the hidden treasures amongst the bewildering array of free knitting patterns available on the web. Expect an issue every Tuesday here on jriede.com!
---
This week everybody's talking about the First Fall issue of Knitty Magazine, and not only because the cover features Neil Gaiman himself.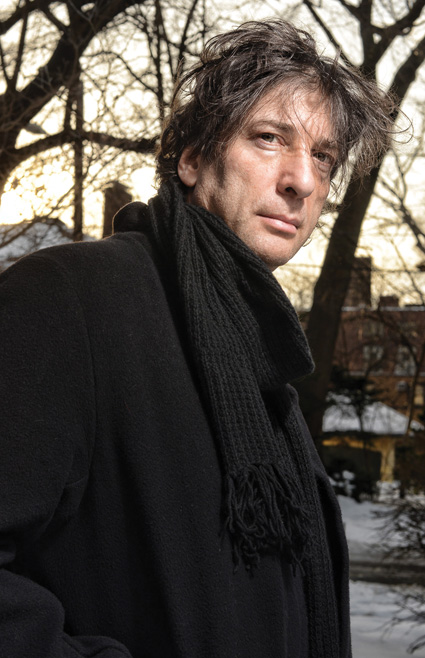 Accessories for men: the Baker Street Scarf
On the pattern page, Joan asks "What's an easy scarf to knit that looks nice, isn't a basic rib or garter stitch, but can be easily knit while reading a good book or watching a good mystery show? The answer is the Baker Street Scarf!"
Owning my agree.
The Atomic Age: Warm Hands Fifties Style
"Ah, the 1950s…they gave us Velcro, Hula Hoops, Saran Wrap, Scotchgard, Liquid Paper, Mr. Potato Head, McDonald's, and credit cards. Did all of that make the Atomic Era the best in recent history?" [Knitty, FF 2015]
Well, the fifties also gave us the H-Bomb, apartheid and the Korean War, but let's put that into denial for the moment. We still got a killer argument for this age: Elvis Presley! This mittens make a Girl Happy.
A lovely pair of mittens, although I have to admit I'm not really thinking of wearing mittens right now. It's summer after all, even here at the German North Sea coast. But that's what Knitty's First Fall issues are all about: getting a head start for the upcoming holiday season. (Last minute knitted gifts? F*ck, I forgot about aunt Annie's present AGAIN!)
Van Gogh Calling: Saint Rémy
If you happen to be a member of the Society For The Appreciation Of Yoked Sweaters like I am, you will love the Saint Rémy pattern by Allie Matthews, a "fitted top-down pullover with a celestial stranded yoke pattern inspired by Vincent van Gogh's most famous painting: the pre-dawn skyline from his bedroom window in the south of France." [Knitty, FF 2015]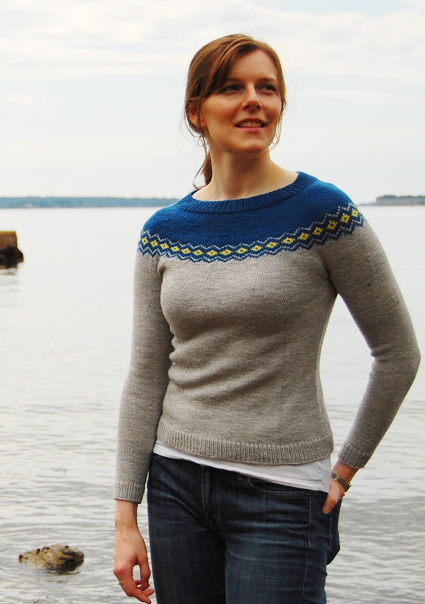 For me, this sweater is not only appealing because of the lovely stranded yoke pattern but also for its top-down construction. I love to be able to adjust a pattern on the go, so this one immediately got a reserved spot in my sweater queue. (Another one of my queues in need of some tidying up – it seems to grow, grow, grow only. How do your handle your Ravelry queue?)
Fancy Pattern Construction: The Nelina Cardigan
Nelina is a raglan-ish cardigan designed to show off hand dyed, variegated yarns featuring an unusual construction: the body is worked in four diagonal panels. Add two simple sleeves – et voila!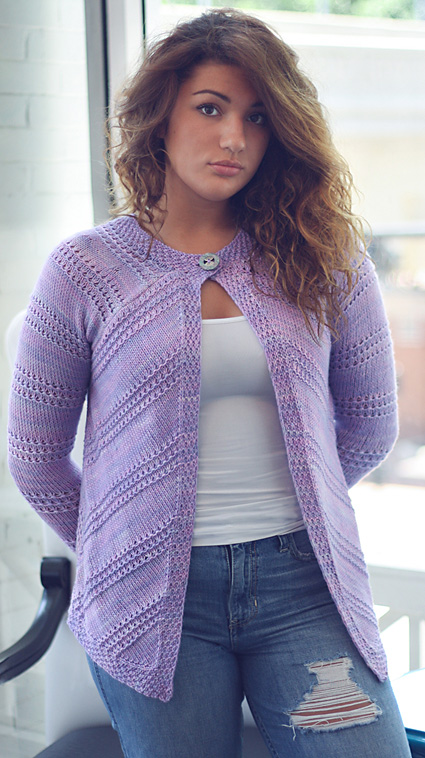 A "Bit Silly Concept": Stereoecho
I have to admit I haven't worked out the construction principle of the Stereoecho Shawl by Leslie Eisinger yet – it looks weird but definitely interesting. Guess this is one of these patterns you have to try knitting yourself to get the idea. (Can someone please hand me over some spare time for knitting? Thanks!)
That's my five favorites from Knitty's First Fall 2015 issue. If you're looking for some ideas and new free knitting patterns, here you go!
Which new patterns do you drool over?
(Visited 475 times, 1 visits today)